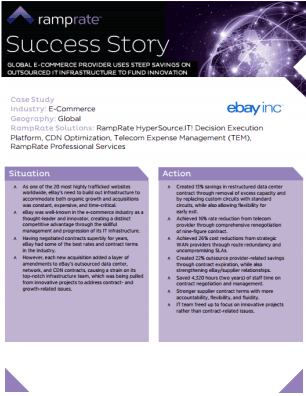 With 128 million active users globally
eBay is one of the world's largest online marketplaces where practically anyone can buy and sell practically anything.Founded in 1995, eBay connects a diverse and passionate community of individual buyers and sellers, as well as small businesses.Their collective impact on e-commerce is staggering, and more than 500 million items are listed on eBay.
RampRate is a leading global sourcing advisory firm serving some of the world's most important brands. We advise on and help Global 1000 companies transact for data center, telecom, CDN, RIM, IT support, and software maintenance services.
We leverage our proprietary sourcing decision execution platform and acquired sourcing data to optimize each client's bill of outsourced IT.