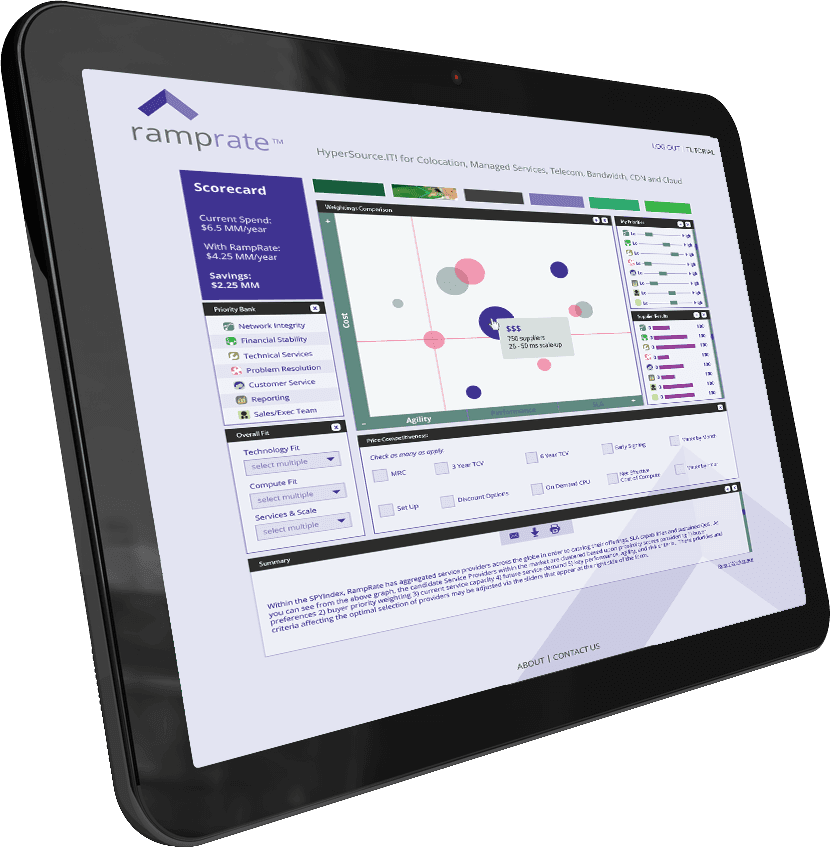 Choosing a new colocation facility can be a daunting task for even the most well-informed buyer.
For years, RampRate has helped clients across North America, Europe, and Asia select optimal facilities and confirm the facilities' use of industry best practices. Our principal partnership team includes former data center owners who have direct experience building, operating and selling colocation space to customers just like you.
Additionally, with years of data center assessment/design/build experience, the team at RampRate will assist you in critical infrastructure inspections of potential sites.
Benefits
Choosing a facility that doesn't align with your business needs and priorities can be an expensive mistake. Perhaps the facility can't support your plans for future growth; perhaps an unseen single point of failure puts you at risk of unplanned outages.
In either case, a well-planned site selection project, backed by years of data center experience, can ensure the selection of a facility that truly meets your needs, now and for the duration of your lease.
"I have had the pleasure of working with the crew at RampRate several times. Each time they have saved significant time in negotiating and closing contracts for data center space, telecom and managed services, which provided at least 20% savings over what we could have done alone and certainly cut processes in half. Tony and team are extremely knowledgeable in this space and always bring innovation and out of the box thinking to the table."
Service Description
Choosing a new facility to host your data center is complex. The choices that need to be made are surprisingly diverse, and failing to match the facility to your needs can be a hugely expensive mistake. Using the experience gained helping dozens of others find a new data center, the RampRate Site Selection Methodology is customized to align with your business requirements, ensuring that your new facility truly meets your organization's needs.
1. Define Data Center Requirements
RampRate incorporates the client's space, power, security and location requirements as part of a DCRD (Data Center Requirement Document). We then use the DCRD to generate an RFP (Request for Proposal) that is sent to potentially qualified suppliers. Understanding your unique requirements allows our consultants to match your company with the best facility and organization.

2. Qualify Data Center Providers
RampRate pre-qualifies suppliers based on your specific infrastructure needs. We then contact all qualified data center providers in the client's preferred geographic market to determine availability.

3. Develop and Distribute RFP
RampRate distributes the finalized, client-approved RFP to all qualified data center providers. The RFP includes instructions on how and when to confirm participation, the final RFP due date and to whom the final response will be sent.

4. Receive, Normalize and Compare RFP Responses
Colocation providers prepare quotes in various ways. Our consulting team understands the wide variety of space, power and network pricing details and standardizes each response for fair comparison and evaluation. RampRate calculates costs per month and per year, considering recurring and non-recurring charges. We also create a qualitative analysis document that examines each facility's non-financial critical factors. These assessments allow you to see an overall image of each option and the long-term effects of various choices.

5. Data Center Tours and Final Scoring
RampRate and the client evaluate the costs and quality of each facility and decide on a shortlist of the best-qualified data centers to tour. An on-site visit gives you a better understanding of the data center quality and allows our consultants to point out often-overlooked factors and ensure facility management best practices are in place. In each case, evaluation scorecards are weighted based on the specific factors that are important to each client. The data centers' scores are an influential factor in the final decision-making process.

6. Final Analysis and Recommendation
RampRate puts together a final presentation for the client that includes the colocation services pricing and facility scores to give the client a comprehensive analysis of the available options. RampRate presents a conclusion and recommendations for the next steps. The final decision, of course, is left up to you, but with the comparison information and analyses, you can be sure it will be a well-informed decision.

7. Contract Negotiation
Once you have decided to move forward with a particular supplier, RampRate remains available to advise you on contract negotiations. We are here to answer any questions or explain confusing contract language to ensure you fully understand the terms upon which you settle.