THE FIRST PLATFORM FOR IT SOURCING DECISIONS & PLANNING
Risk Disappears & Performance Increases
More than 99% of the deals we facilitate for you make it to contract.
Timelines are Drastically Cut
Weeks or even months are cut from your management and legal approval processes.
New procurement, mid-contract negotiations, and renewal savings average 23.8% over baseline data.
150,000+ quotes from hundreds of transactions
Ongoing client inputs on actual performance
Analyst "Research-View"
Industry trends/best practices vendor ratings
Inputs from brand names (Gartner/IDC, etc.) and specialists (e.g. Telegeography, 451)
Supplier Capabilities
Services data, list prices, and actual quotes
Pre-loaded database of over 1,000 vendors
Customer Experience
Primary research on customer satisfaction
Ongoing end-user interview program
Cultural Compatibility
Cultural fit matching of clients and vendors
Alignment on dimensions like corporate social responsibility and energy efficiency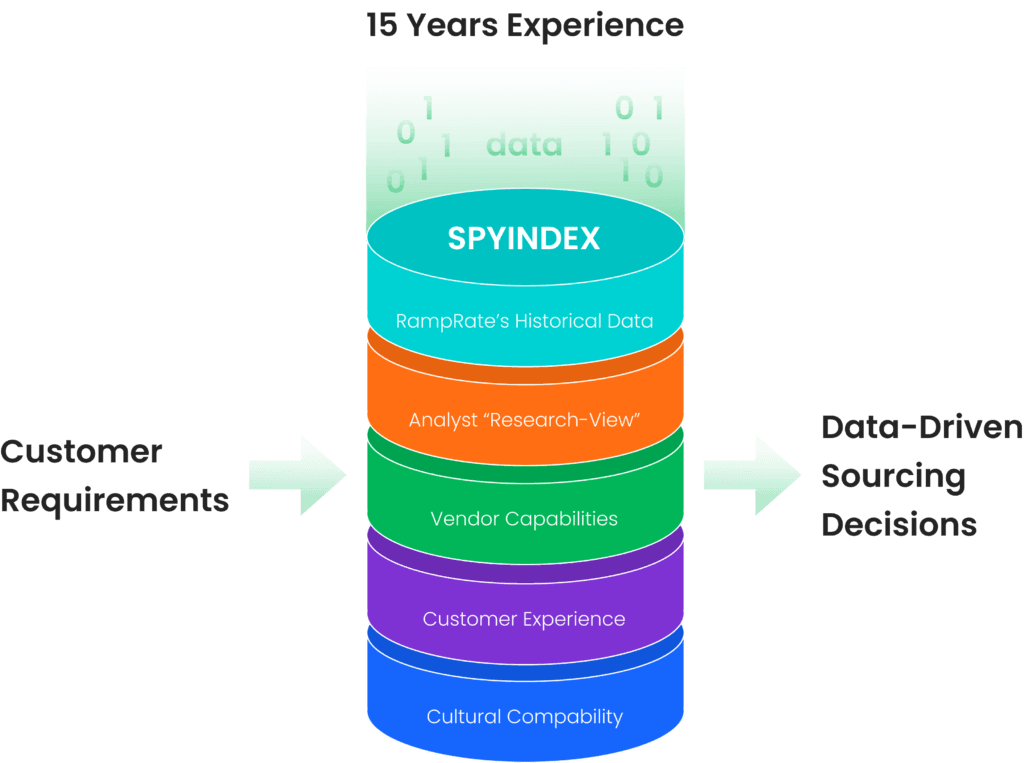 The SPY INDEX easily and quickly matches buyer needs with IT service providers in a vendor-neutral analysis.
This massive database cross-references your highly configurable buying criteria against the comprehensive database of IT vendor and market information for now and for the next 5 years.
It helps buyers by taking the guesswork out of vendor selection and contract negotiations. It helps sellers by making certain that they will see only those buyers whose requirements actual capabilities.
The output of the SPY INDEX™ is a real, actionable market price for a given set of services and a rating of how well a vendor's service matches your requirements. This platform analyses the right mix of Cloud and legacy infrastructure with 315 variables and hundreds of sources.
The SPY INDEX™ compares Thousands of data points encompassing everything from price/service level to financial stability to cultural compatibility to environmental considerations.
Our matching system is built on more than 15 years of industry experience that has unlocked billions in savings and revenue opportunities for both clients and service providers worldwide. The SPY INDEX™ provides near real-time intelligence on more than 350 vendors, in 80 countries and 300 metro regions, for 20 different IT service types.