To cut costs and reduce risk, you need specific information about data centers and colocation suppliers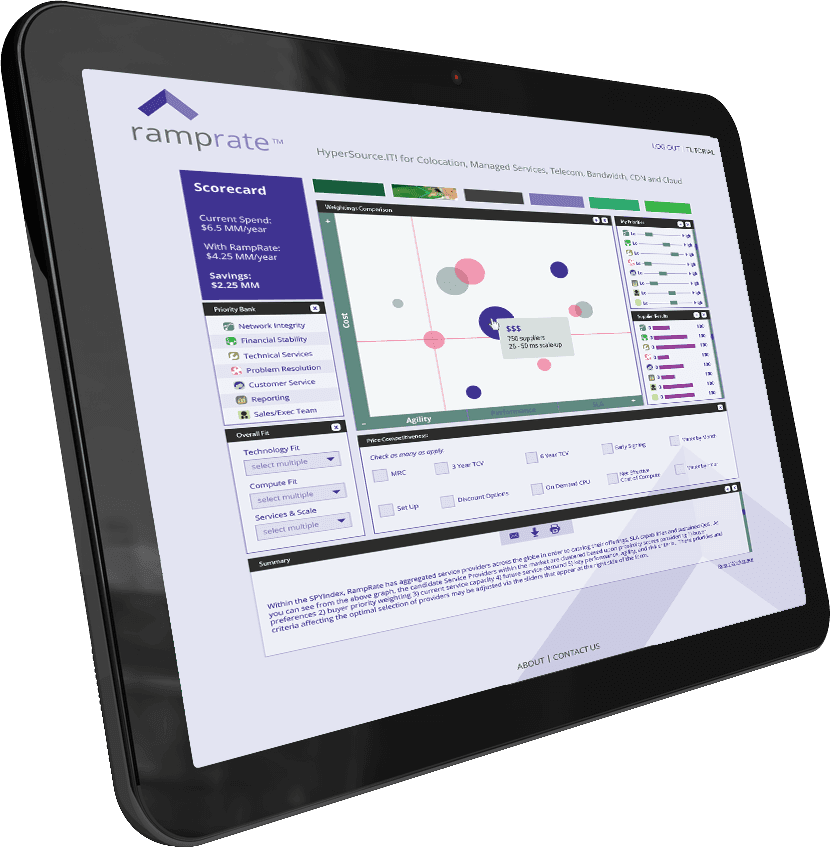 While the cloud gets all the hype, outsourced data centers are still carrying the bulk of the enterprise workload. But, there's a growing gap between modern high-density, high-efficiency facilities, and traditional low-value colo. How do you quantify the impact?
With our in-depth supplier profiles and pricing information, you can:
Renegotiate mid-term contracts – yes, in mid-term
Benchmark shared services vs. peers and vs. market to see where you stand
Identify the best regional locations to greatly reduce cost and risk
Find one-of-a-kind opportunities for anchor tenancies, highly localized hosting, global expansion, built-in DC power, and Tier IV data centers
Cut procurement time from months to weeks
Accelerate time frames to complete a contract within as little as two to three weeks
Get the best price for your data center needs
Many different elements need to be taken into account when planning data center outsourcing, including geography, data center tier, historical reliability, reference reviews, SLA guarantees, protection against natural disasters, etc. A best practice approach boils all of these considerations down into a simple scorecard for direct apples-to-apples comparisons across all aspects of potential solutions, including both outsourced and in-house.
Addressing the Data Center Pricing Challenge
While a full data center evaluation is a complex process, grappling with pricing is perhaps one of the most challenging facets. From the buyer's perspective, best practices in data center pricing require identifying a common size metric and cost accounting model to enable comparisons between different suppliers and facilities. However, this is often very difficult to achieve due to confusing supplier pricing models, opaque data center cost drivers, and conflicting reporting parameters.
Level the Data Center Cost Playing Field
RampRate has found that the analysis of data center/collocation costs on a space per peak kilowatt basis is the preferred method of cost accounting, benchmarking and evaluation of data center fixed costs (including rent, maintenance, and depreciation of non-IT equipment such as UPS and generators). This conclusion is reached by evaluating all the price models available in the market against seven key principles that we have ascertained through our experience in advising data center buyers on hundreds of transactions.
Comparability Cost analysis metrics should allow apples-to-apples comparisons so that an offer from one provider, location, or project can be contrasted with offers from other providers in other locations and projects.


Flexibility The metric should allow for inferences about the impact of design changes on costs without going back to the supplier.


Correlation Suppliers should not be able to increase chargeable amounts to the customer unless they are incurring additional underlying costs.


Neutrality Proprietary terminology from one supplier precludes cross-supplier comparisons, so the metric should be neutral to all suppliers or options.


Translatability The metric should be clearly definable and translatable to other charge models.


Minimize Misunderstandings The metric should be easily and directly explainable to all participants on the customer side and on the supplier side.


Adhere to Best Practices The metric should allow for clear and repeatable processes, success metrics, and standards for purchasing that can be directly compared with other organizations, and with industry benchmarks.
The underlying elements in data center space costs are always the same – land, facility, equipment, maintenance, power generation/consumption, and overhead. However, depending on the supplier's background, you may see one or more of six price models for this same bundle. Some of these do a good job of fulfilling the above criteria, while others may leave you with offers that are less flexible, more difficult to compare to alternatives, and even exceed your budget without warning.
One of the most significant factors in pricing data centers is the power requirements
And it is one of the most overlooked and easiest areas to address in order to reduce overall data center costs. The margin between data center power usage and capacity is important to consider when working with a US or Asia Pacific data center provider. Suppliers in these geographies typically buy data center power based on usage and then resell it based on capacity. While it is not a simple matter to identify the actual cost a supplier pays for data center power, understanding and making use of the underlying cost and risk model can deliver significant savings for buyers.
Impact of Lower Data Center Power Costs
The supplier's hidden margin – and therefore savings potential — can range from five percent to twenty-five percent of the total data center cost. This drives home the importance of investing time and effort to understand your supplier's data center power costs, and working with them to arrive at a pricing model adapted to your usage. A strong negotiation strategy will include not only demands from the supplier, but an understanding of their constraints and risks.
Given that data center power costs are one of the largest cost drivers for data center operators and their tenants, both parties logically give significant weighting to data center power costs when selecting locations. In addition to the location and price model, variables that go into the final calculation of rates include utility bulk purchase deals negotiated by the data center supplier, power usage efficiency (PUE), and, of course, the amount of power your infrastructure will require.
Negotiation Considerations
Being armed with power cost metrics is not the end of the journey. You still must work with the supplier to arrive at an agreement. The following are suggestions to consider as you approach your supplier:
Recognize that power pricing can vary widely across geographies and reasonable expectations in one location may be overly aggressive in another
Shoot for metered power pricing as your best-case pricing scenario
If per-amp or per-circuit pricing is what's feasible – pay special attention to the assumptions and see what commitments you can make to reduce the supplier's risk in exchange for a rate reduction
Review your contract to ensure you have recourse against future cost increases or service degradation
Promoting green data center operational practices
RampRate's SPY Index™ tracks key "green" criteria of IT services providers and Green data centers, and correlates those criteria to CapEx, OpEx, and other TCO considerations for our clients. Some of the Green data center areas we track in the SPY Index are highlighted below.
RampRate identifies the power generation mix and utility sources for Green data center suppliers (hydro, nuclear, geothermal, wind, solar, coal, etc.) RampRate helps clients analyze the cost impact of power generation on their monthly bills. At the client's request, we can also prioritize Green standards for data center power generation during the supplier evaluation and selection process.
Sustainable Building Practices
RampRate's supplier ratings include Leadership in Energy and Environmental Design (LEED) Green Building Ratings on a per-facility basis, as well as the cost impact of pertinent energy-efficient designs for cooling, lighting, materials, and other building components.
Power Utilization Efficiency (PUE)
RampRate tracks the effective use of power within the individual Green data center facilities, as defined by the Green Grid Consortium.
For areas where legislation has instituted a hard cost on carbon usage (through direct taxation or through cap & trade programs), RampRate identifies the potential cost of overall carbon emissions for the supplier's facility, and estimates the cost of carbon impact for its customers within the facility. RampRate has worked with many of its clients on their sustainability strategies as related to Green data centers. Read on to learn how RampRate can help you.
Lower your costs through Green Data Center geographic selection
We help clients optimize their geographic location against their computing requirements, identifying and evaluating regions with a high percentage of grid power derived from renewable sources.
Get more computing with less power
We advise clients on server, cooling, or other design approaches to achieve more efficient hardware architectures, including high-density computing, virtualization, water-cooled blade servers, and DC power.
Access higher savings with renewable energy sources
We help clients to structure relationships with qualifying Green data center suppliers that access the savings available from renewable energy sources for their power supply
Meet your sustainability commitments by qualifying "Green IT" suppliers
We help clients meet their corporate sustainability commitments, particularly related to Green data center and computing requirements.
Know the Regulatory Impact of New Carbon Emission Legislation
Many European and Asia-Pacific countries have already passed critical legislation regulating carbon emissions from data centers. New requirements are on the table in almost all countries around the world. The United Kingdom, for example, passed legislation in 2010 that completely changed the cost of sourcing co-location and outsourcing computing.
RampRate tracks the state of regulatory requirements on a per-country basis, to help our clients understand the potential impact of current and upcoming legislation on new and existing data center services.