Recent Success Stories – Use Cases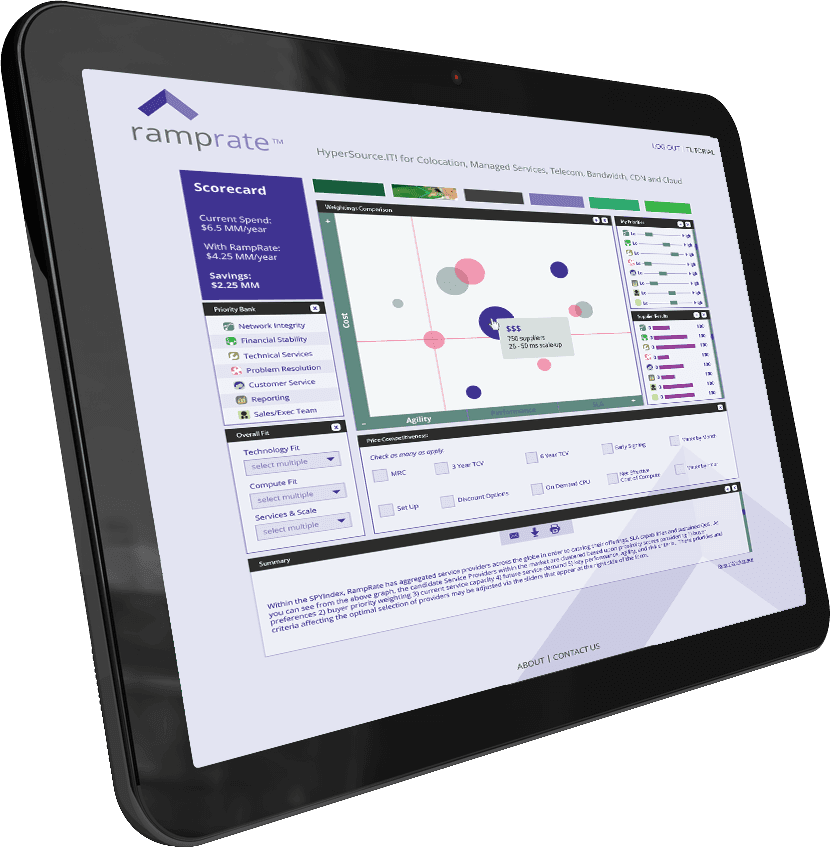 Is the build / buy / rent plan from the CIO realistic?
The decision to build, buy, or rent facilities is a very complex subject and goes far beyond raw cost. We'll help ensure your cost assumptions are accurate (and usually find some extra savings). But, more importantly, we'll help you evaluate the entire scope of the decision, including comparable examples from other businesses, environmental and soft-cost potholes, and supplier reputation illumination.
What are our peers paying for IT? If less than us, why?
Are you carrying a 20-pound weight around your neck when starting the race? Lean is mean, and RampRate has the data and relationships to show you exactly where you stand versus others. Of course, we'd never identify specific companies, but we show you specifically how your spending compares to industry and like-size business.
If you're paying too much, it means one of two things: Your contracts have not kept pace with the market, or your contracts were negotiated with imperfect knowledge of the real prices being paid in today's market.
Measure what matters. Maximize your return on IT infrastructure.
The return on investments in Information Technology—broadly speaking including not just hardware and software acquisition but also including voice networks, data networks, hosting, managed services, colocation, and cloud IaaS, SaaS, and PaaS—can be complex to assess.