For two decades, RampRate has successfully elevated the way business does business.
Our DNA is in tech, but our hearts are all about human beings. We've lifted our employees and partners up by building strong networks of committed people. We work with folks we believe fulfill their promises, act with integrity, and create value. And we're always looking for new partners.
We want you to share in the work, and the benefits, of weaving our work lives together.
It can be easy as a soft email intro or a face-to-face meeting. If you connect us with a valuable partner, and we strike a deal, we share our revenues with you. It's as simple as that.
Together, we can raise the vibration of industry.
We appreciate the time and talent you bring. We value the relationships you trust us with. So, we treat all referrals like gold. And, because you spent years developing trust with those connections, we want to provide compensation. Because no matter how altruistic we all are, and no matter how much we all strive to create greater good with tech, having additional connections creates more opportunity.
We have a 20+-year history of success with some of the biggest brands.
RampRate has built on our original foundation as IT experts. We've expanded into a wide range of profitable and world-improving businesses with tech at the heart.
Our Advance Start-up Growth Advisory program helps fledgling companies succeed.
Our Social Impact division, Syzygy Impact, audits and coaches the most innovative impact-focused startups.
Our blockchain advisors nurture exciting new business in mining, tokenomics, governance, and Decentralized Autonomous Organizations.
Over the last two decades, RampRate and its founders have built strong connections and a great reputation among senior executives at Fortune 500 companies, large investors, blockchain wizards/founders of successful ICOs, cryptocurrency exchanges and miners, and developers of cutting-edge technology. We are excited to share those relationships and skills with emerging companies.
As our first incubator services, we are seeking and growing Unicorns that are shaping technology, media, and blockchain with impact solutions.
We've saved money, helped build strategic partnerships to make smarter investments and develop better products. We've helped execute companies' impact narrative, delivery, and outcome measurement. We know what they need and they trust us to fill that demand.
This includes:
⦁ Cleanup & validation of marketing
⦁ Recruiting
⦁ Strategic research
⦁ IPO & ICO acceleration and amplification
⦁ Positioning & clarity of core value proposition
⦁ Critical partnerships
⦁ Strategy validation
⦁ Advisory board membership
You can find more details on our advisory services here.
Champion Partner Program Overview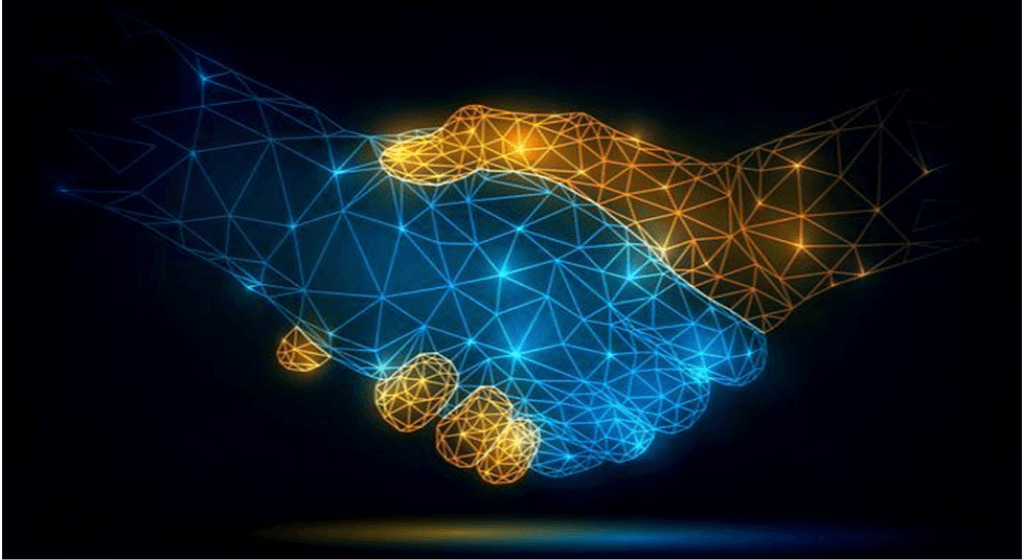 The Success Fee Model ensures that our incentives are aligned with yours in building a durable, optimized relationship.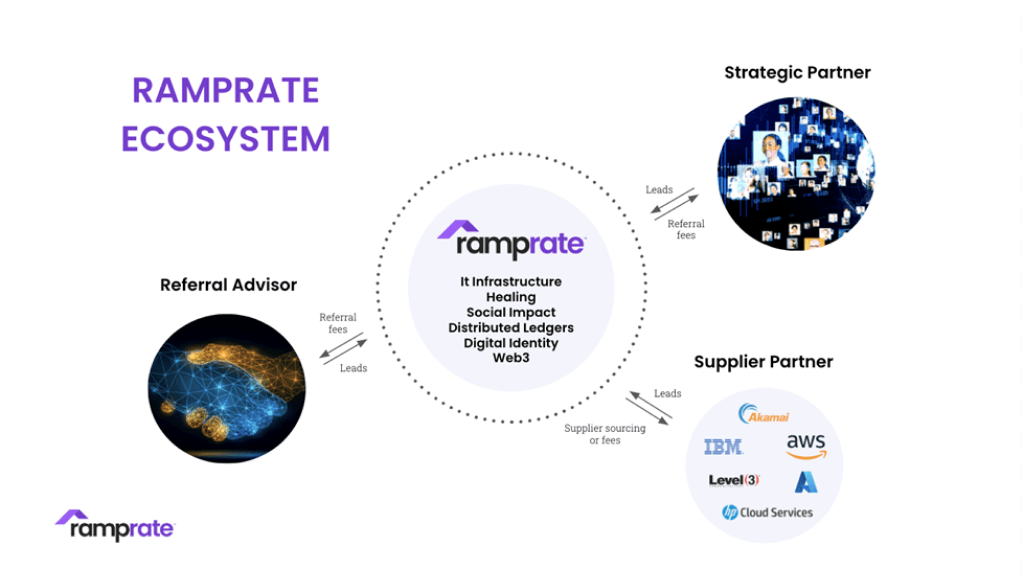 Guiding the Buyer to Informed Decisions
RampRate enables executive IT buyers and sellers to quickly develop optimal IT services strategies both in-house and outsourced. RampRate's cutting-edge outsourcing procurement practices enable ad to accelerate the creation of durable, cost-optimized contracts for services such as:
RampRate clients include more than 125 of the world's most critical IT buyers as well as innovative startups and much in between. It has expertise in IT and telecom-intensive industries such as media & entertainment, online video gaming, publishing, tech, finance, e-commerce, and Web 2.0. Led by industry thought leaders from pioneering ventures in hosting (Exodus, Terremark), content delivery (Akamai, Speedera), and related disciplines, RampRate's many successes have been recognized by the Black Book of outsourcing, the International Association of Outsourcing Professionals, and Forrester.
RampRate's success is founded on four key assets:
The Service Provider Intelligence Index (SPY Index TM) provides the data that optimizes the fit between an offer and a client.
The Deal Acceleration Engine provides a fast sourcing process by which sellers of IT services reduce costs and pass on savings to the client.
The RampRate Community has 125 major buyers, 450+ suppliers, and dozens of analyst firms, influencers, and integrators ensuring that the right piece to the puzzle can always be found.
The Success Fee Model ensures that our incentives are aligned with yours in building a durable, optimized relationship with the right supplier for the right price
A RampRate Ecosystem is a group of individuals and organizations coming together for the benefit of clients, giving them knowledge and information to make better IT infrastructure sourcing decisions. These relationships support the growing demand for clients to reduce risk, cost, and procurement issues, and RampRate is at the forefront of this ever-changing industry.
IT SOURCING AND OPTIMIZATION
Our services portfolio is based on a particular engagement from the client. Our data-driven sourcing services are based on several IT infrastructure focus areas, however, we can also analyze additional areas of need Desktop Support and Infrastructure management. Our Expert Resources are the top in the industry and provide an un-match level of knowledge. Now combined with our Proprietary SPY IndexTM tool, RampRate delivers the best information to make IT Sourcing decisions.
We analyze thousands of data points and create compelling and easy to understand charts and graphics that clearly communicate the issues currently being faced or how well a client compares to competitors and industry.
RampRate has a very straight forward approach to fees received from clients and referral fees paid out to Referral Advisors. Our processes and fees are transparent to all engaged in the opportunity to ensure speed, clarity, and value.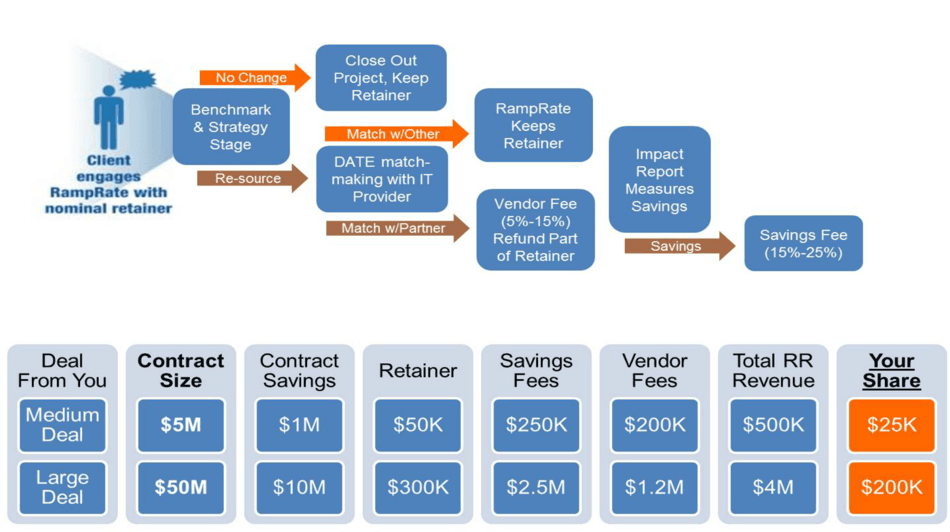 Client Fees
PROJECT FEE: A percentage of Pre-RampRate total contract value (subject to rebate below)
CLIENT REBATE: The retainer is returned when contract sources with a RampRate Partner
SAVINGS FEE: Percentage of the total delta between the benchmark and the new rate
Advisor Fees
REFERRAL FEES: Industry-standard percentage of the contract, shared with Client
Below is a sample opportunity to better understand the opportunity flow and the referral fee payout.
Here we are at the most important part of our conversation… how do we work together and what is the process that my contacts or clients with going through as part of the RampRate sourcing services.
It can be easy as a soft email intro or a face to face meeting with you and your client. As we have mentioned we have already worked with some of the larger consumers of IT on the planet, and have all the skills required to enter into a relationship at any level, albeit we prefer the highest level possible to ensure quick decisions to move forward with both of us.
Below a quick process graphic of our sales cycle so that we can understand the different stages and well as a high level of our methodology when we engage with clients.
We are committed to our mutual success and future business together. The next step on our journey together is as follows:
Contact RampRate for a more detailed Champion Partner webinar if needed.
Complete the NDA and Champion Partner Agreement, linked below.
Use our Lead Registration process to register your first lead.
Get Paid!
GET STARTED AND CREATE INTRODUCTIONS TO RAMPRATE
We appreciate your interest in learning more about our process for the most successful introductions to your network. If you would like to move forward with RampRate as Champion Partner, please complete our NDA and Champion Agreement. 
Once the above documents have been signed, you will gain access to key materials on RampRate's services to assist in generating leads and informing your target contacts about RampRate. Feel free to reach out to your RampRate Channel Manager with any questions throughout the process as well.
Intel engaged RampRate as we launched our Digital Home content strategy & alliances group. They provided valuable and highly targeted research – truly understanding our project needs, our timeline, and the budget. Tony's stewardship ensured that the project was managed in a highly professional manner, happened well before our deadline and that his research team was on hand to provide further insight and analysis when we needed it. Tony defines professionalism and at RampRate he runs a world-class team devoted to the same ideals. He remains on the vanguard — staying on top of all the major digital media trends and the industry in general.
RampRate has been my most reliable resource and is ready to perform for us at a moment's notice. Their inside knowledge and ability to handle high level complex negotiations has helped us move fast.
Tony and his team are very well connected in the high tech community. He runs a great organization – RampRate – that is well thought of, especially in the Media and Gaming sectors. He is also a generous giver of his time and energy to a lot of worthy causes.