An ITBM Primer
Infrastructure Optimization According to ITBM leader Apptio:
"Modern IT leaders use facts to collaborate on the tradeoffs needed to maximize business value. Cost-only conversations become a thing of the past."
Modern IT leaders:
Manage CapEx/OpEx, Fixed/Variable, CtB/RtB, Direct/Indirect
Manage cost and variance for Plan/Build and Run activities
Manage IT internally with these metrics on a monthly basis
Communicate IT cost, utilization, and value metrics monthly with key business stakeholders
Make technology business decisions in near real time
How Do ITBM Tools Work?
Once again, our friends at Apptio explain: "Corporate financial systems, ERP, BI, spreadsheets, and ITSM software don't connect the dots between finance, technology, and business value. Modern IT leaders tried to leverage these existing investments and even built their own homegrown solutions with no success. These systems were not purpose-built to manage the business of IT." Simply put, ITBM  applications are designed to manage IT like a true business function. These software applications are purpose-built to solve the pervasive challenges that exist in merging financial, technology, and operational data to deliver improved analytics, automate key processes, and demonstrate business value.
ITBM
applications like
Apptio
help IT to bridge the gap that exists in many organizations between IT and business when it comes to demonstrating the clear and measurable value of IT. But do these applications provide the complete picture of how cost
and
value is allocated for
IT systems
and ALL of their associated assets and resources? Well, almost.
Infrastructure Optimization Tools Complete the Picture
The diagram below illustrates where ITBM applications fall short of enabling total cost and value transparency for
IT systems
.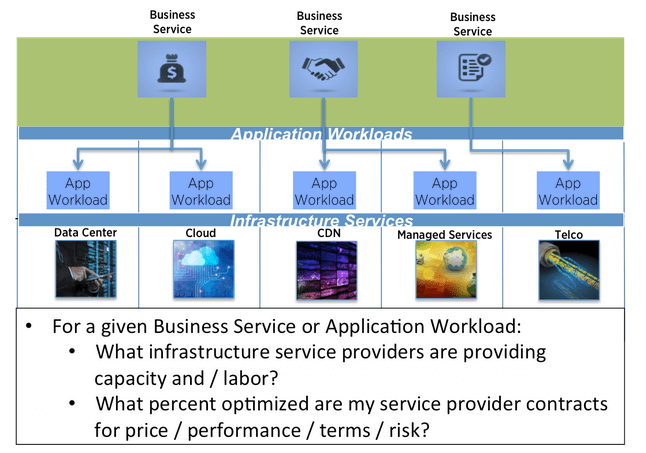 ITBM applications allow you to build cost pools, chargeback and showback models for the physical software, infrastructure and external services / labor. You can use these models to analyze and benchmark your costs vs. peers, and to apply sophisticated analytics in a variety of decision-making scenarios. You can for example see how replatforming a system to effect a change in hosting or other operational factors will impact TCO for the system over time.  Well, almost. What is missing are granular cost allocations and value benchmarks based on contract terms for infrastructure services (external services) needed to support that system.  That is because the data upon which the models are built does not answer the question, for example, of:
What percentage of my overall MPLS circuit cost for the data center where the system is deployed is allocated to just that system?
Which of my telecom suppliers are providing network bandwidth to just that system?
Am I receiving a fair price for my bandwidth, given the QoS and SLA requirements for just that system and its associated workloads?
What is my contracted compute capacity allocation for that system in its current running state, and importantly, how much of that capacity is wasted at operational norms for the system? How much is wasted at peak? And how does that translate into dollars over time?
Infrastructure optimization tools take over where ITBM applications leave off when it comes to completing the picture of how much it actually costs to run your
IT system
over time.  These tools not only answer the above questions, but also provide analytics that are complementary to ITBM applications, allowing you to model at optimize the
total cost of compute
for your
IT systems
. Want to learn more about Infrastructure Optimization tools and how they can help fill in the blanks that are unanswered by ITBM applications?  After all, infrastructure service costs often represent 20% to 40% of the overall cost to run a system!