Discover How The SPY INDEX Can Help Your Company
SPY INDEX Was Built for IT Optimization – Our IT platform integrates next-generation analytics and our industry-leading SPY INDEX™ into a unified IT optimization suite that enables IT leaders, to tailor fit their infrastructure with precision.
SERVICE PROVIDER INTELLIGENCE INDEX (SPY INDEX)
Know the market price.
Find the best supplier match.
Get the right contract terms to prevent disputes.
Optimize price / performance ratios.
Achieve fast time-to-market.
15 years of experience and hundreds of transactions.
Extrapolate future trends to optimize long-term plans.
Reduce Risk with Ramp Rate
Built on the SPY Index, our proprietary SPY INDEX IT Optimization Platform employs a unique software toolset and analytics framework to drive intelligent sourcing decisions—removing risk from complex IT infrastructure sourcing decision-making.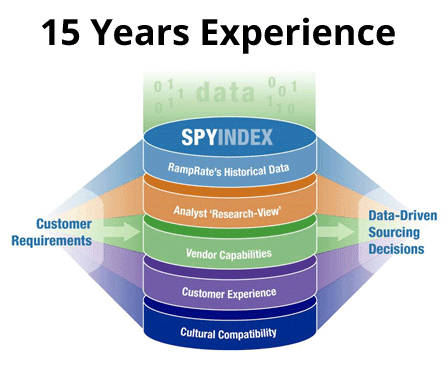 Optimize and Allocate Your Price, Performance and Risk
By Calculating These Normalized IT Service Line Metrics for You, Your Peers, and Relevant IT Service Providers.
Get Clarity on Your Current Spend, and How it Compares to the Rest of the IT Infrastructure Universe.
SPY Index Toolset
Your Portal for IT Sourcing Decisions
SPY INDEX PROCESS: THE FASTEST, MOST EFFICIENT WAY TO SOURCE YOUR IT INFRASTRUCTURE
Get Clarity on Your Current Spend, Service Inventory, and Performance
Simply understanding what they're buying, from whom, and for how much is a challenge for many
RampRate
customers, especially those with many acquisitions or decentralized buying.
RampRate's
Inform service helps customers get a snapshot of their starting point, which can then be used to plan and measure improvement.
CAPTURING DECISION-MAKER PRIORITIES
Identify the Best-Fit Target Outcome by Seeing Both End State and Transition Process
Once there is an understanding of the current state, you can start thinking about a potential target outcome. The range of these can be as simple as buying the same solution cheaper or a comprehensive redesign to move from traditional colocation to cloud, offshored support to highly automated "robotic" processing, or switched voice-to-SIP trunking or VoIP. Regardless of what's on your roadmap,
RampRate's
Interpret toolset is designed to understand the potential end states of your infrastructure strategy and compare them to the current situation to measure the upside of required changes.
CAPTURING DECISION-MAKER PRIORITIES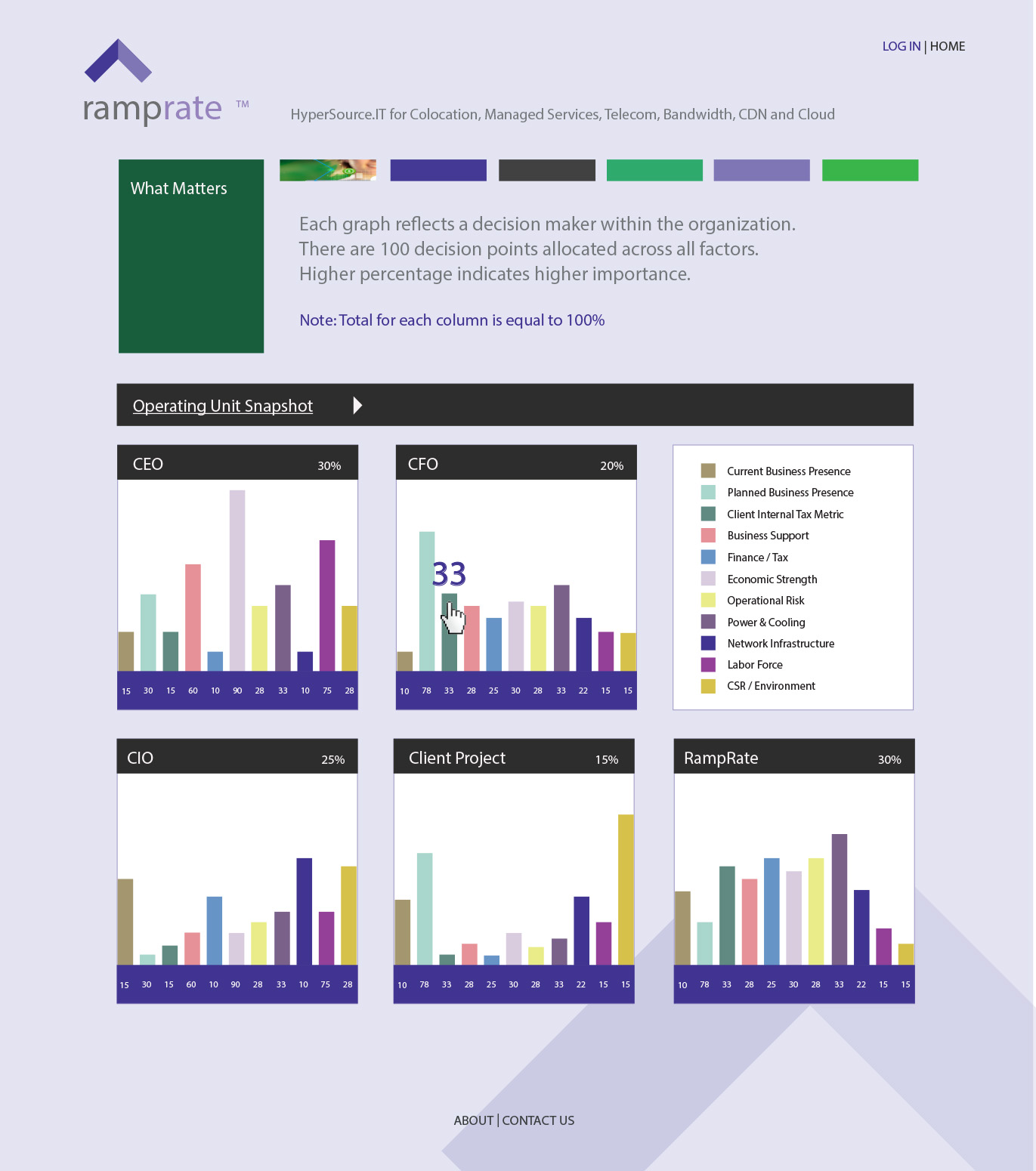 PREFERENCE-WEIGHTED SERVICE PROVIDER SCORING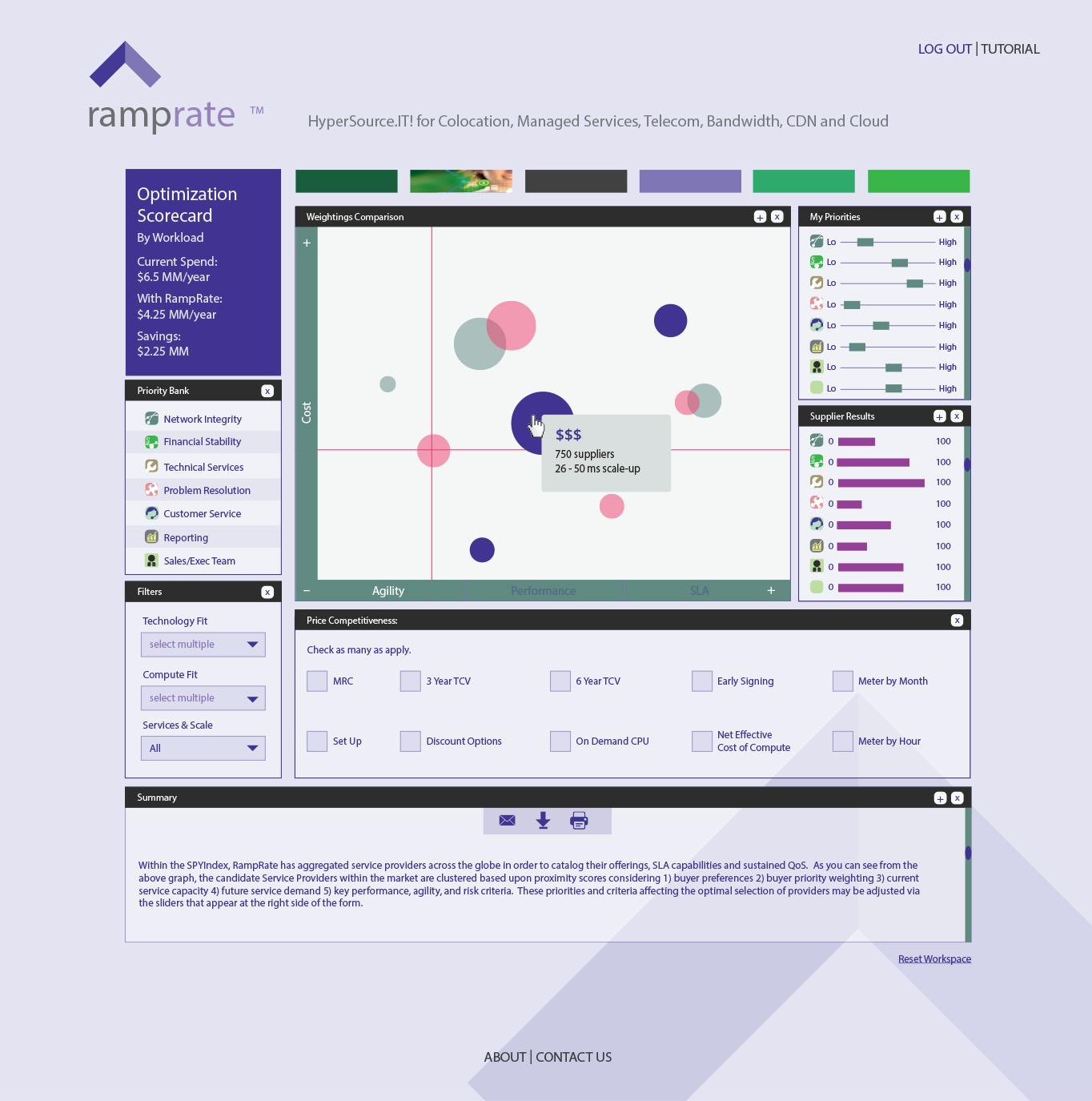 Design the Right Spec for Your Business Needs
With the current state and all the potential changes mapped, it's now time to decide which of the solutions you actually want to go with – or, if it's an especially close call, to defer the decision until you see actual supplier offers.
RampRate's
Optimize service manages the process of creating internal consensus on the direction and then turns that consensus into a detailed spec to use in obtaining the best-fit solution in the Execute phase.
OPTIMIZE PLATFORM: WORKLOAD PaaS OPTIMIZATION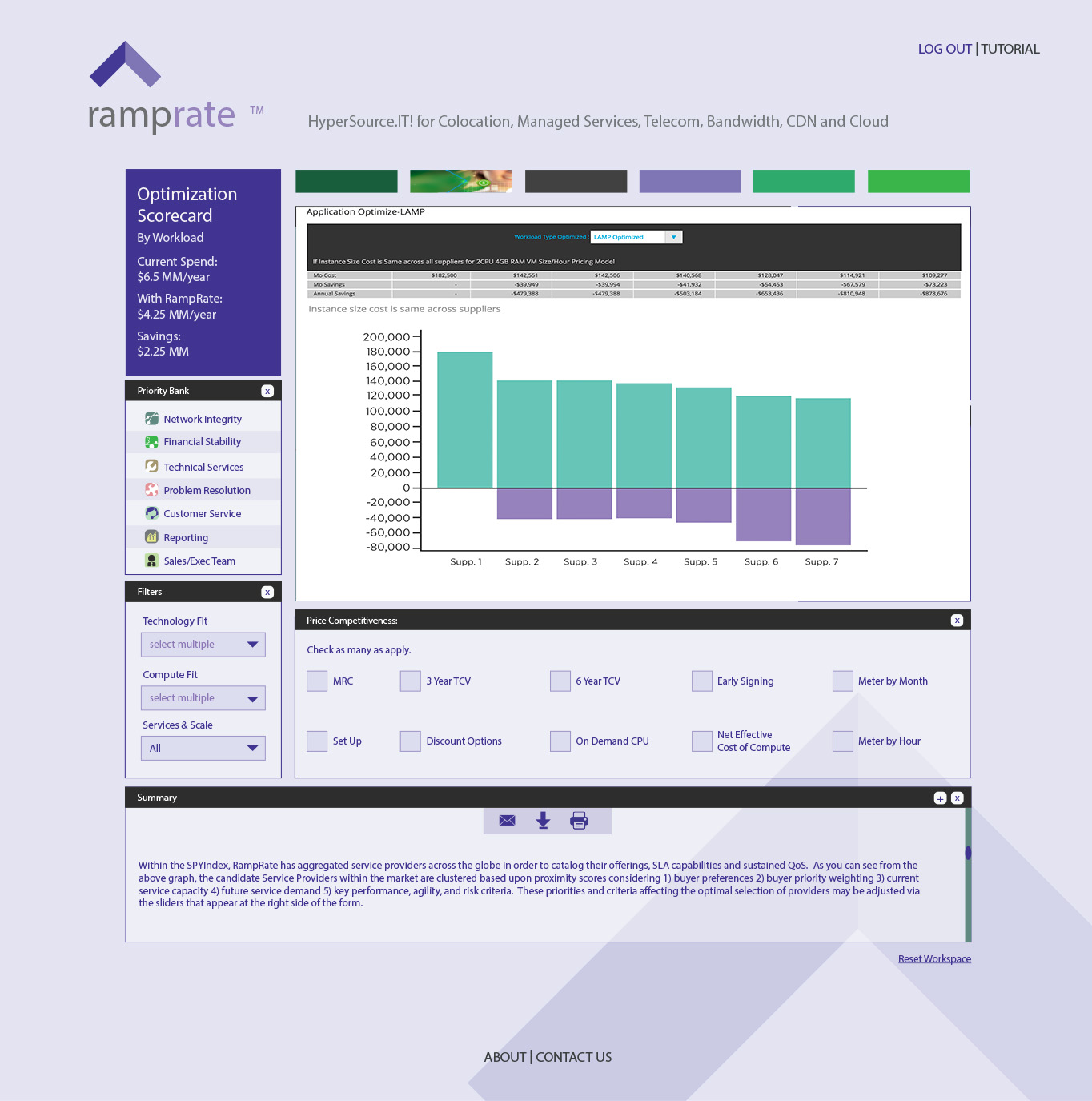 OPTIMIZE INFRASTRUCTURE: WORKLOAD IaaS OPTIMIZATION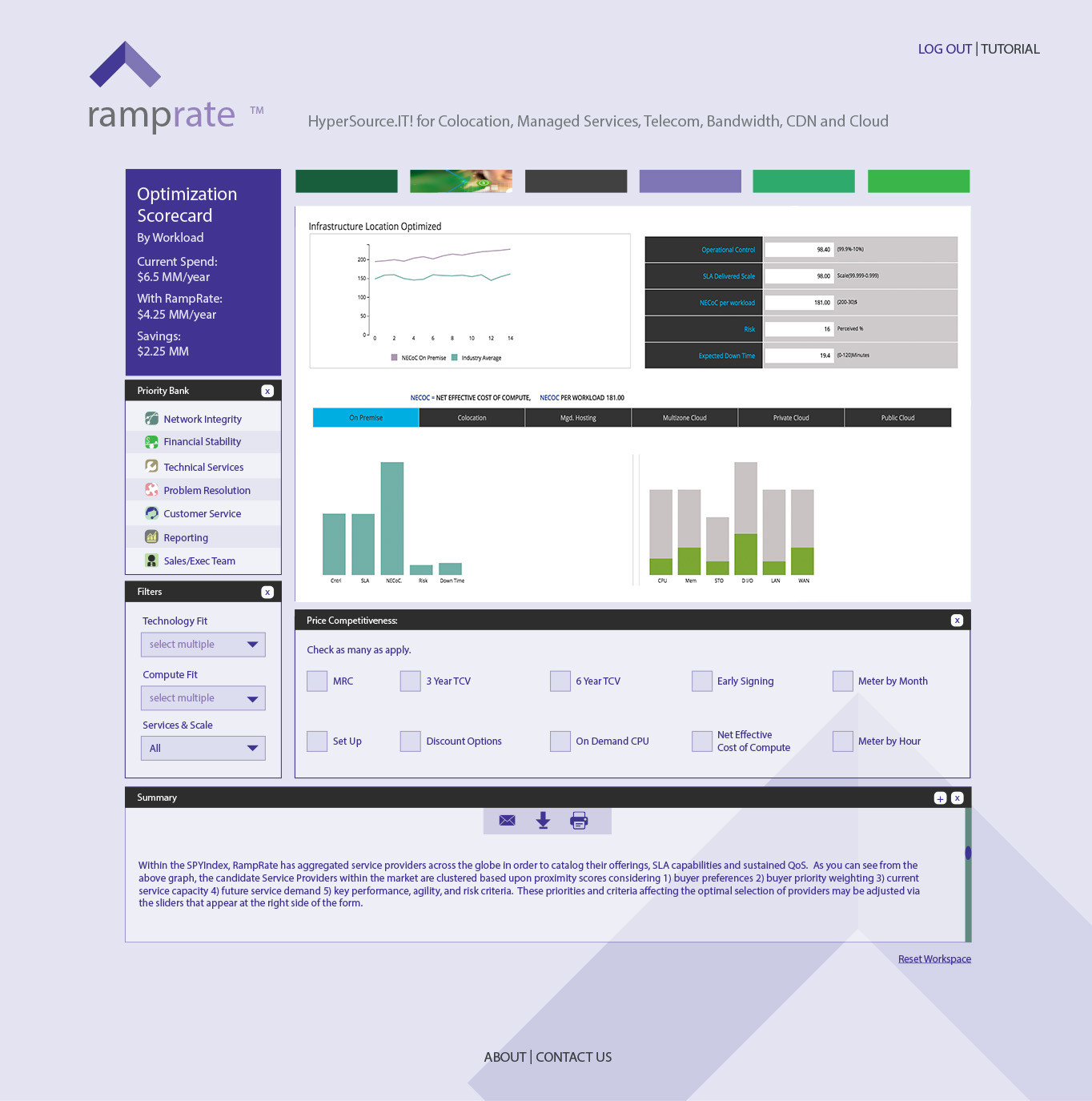 OPTIMIZE CONSUMPTION: WORKLOAD EFFICIENCY AND WASTE OPTIMIZATION
OPTIMIZE OpEx: WORKLOAD PAYMENT MODEL OPTIMIZATION
FORECAST TCO SAVINGS FROM WORKLOAD OPTIMIZATION
Optimized, SPY INDEX Contracts
The end result of the RampRate SPY INDEX process is a signed contract. However, it's not just any contract – but a market best-practice contract, with the right supplier, for the best-fit solution available, delivered in record time. The change is painless and frictionless, and your resources can stay focused on their day jobs.
ACTUAL SAVINGS DASHBOARD