For 20 years, RampRate has saved companies billions on IT infrastructure and driven their strategies for the next century
Today, we're busy bettering the world.
How? We partner with the leaders of tomorrow to kick down the barriers to their success.
Want to partner in our collective evolution?
To understand our Core Values & our Principles of Engagement with clients, please check out our Mission, Vision, and Values
Join over 13,000+ people who receive our top tips and tricks.
Why Shouldn't it be "Earn to Burn" By Tonyg, a...
Read More
Mark Tercek, Peter Gross, Joe Weinman, and Stacey Shulman join...
Read More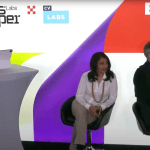 DEVXDAO MEDIA CONTACT: ANNIE HEMMESCH Phone: +1 708-646-7364 E-Mail: annie@ramprate.com...
Read More