IT strategy: Turn Insight into Action.
Reign in the complexity and risk of change.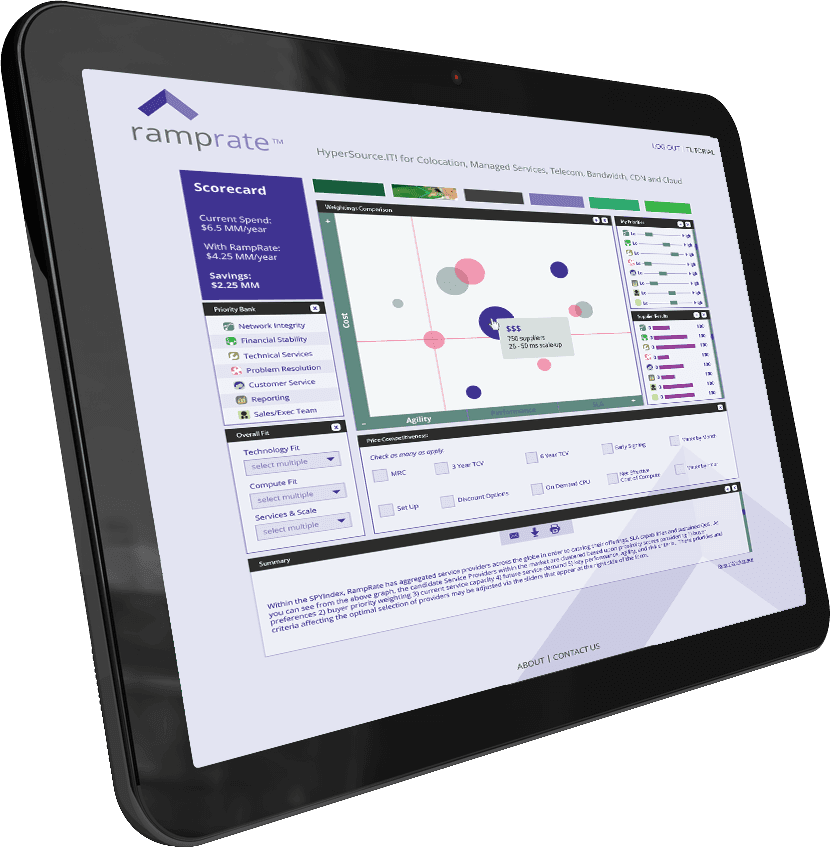 Learn where you stand.
We've become advisors to some of the top IT executives in the world.
Why? A truly unique and powerful database and expert, results-oriented analysis.
How would it feel to be certain you were operating at a true maximum efficiency? Part of certainty is data and RampRate's SPY Index™ is possibly the most powerful dataset in existence for a clear and certain view of the IT suppliers world. We've completed hundreds of major sourcing projects similar to yours, and thousands of transactions all over the world in the last 10 years.
Request Demo
How do I adjust to all the changes in the market?
RampRate's SPY Index™ contains over 100,000 data points on pricing, policies, contract terms and SLA's of over 1,100 IT suppliers around the globe.
Real-world pricing is being collected and organized every day. With our SPY Index™, you have access to the latest like-for-like information, as well as the most up-to-the-minute overview of supplier capabilities on the planet.
Let's Discuss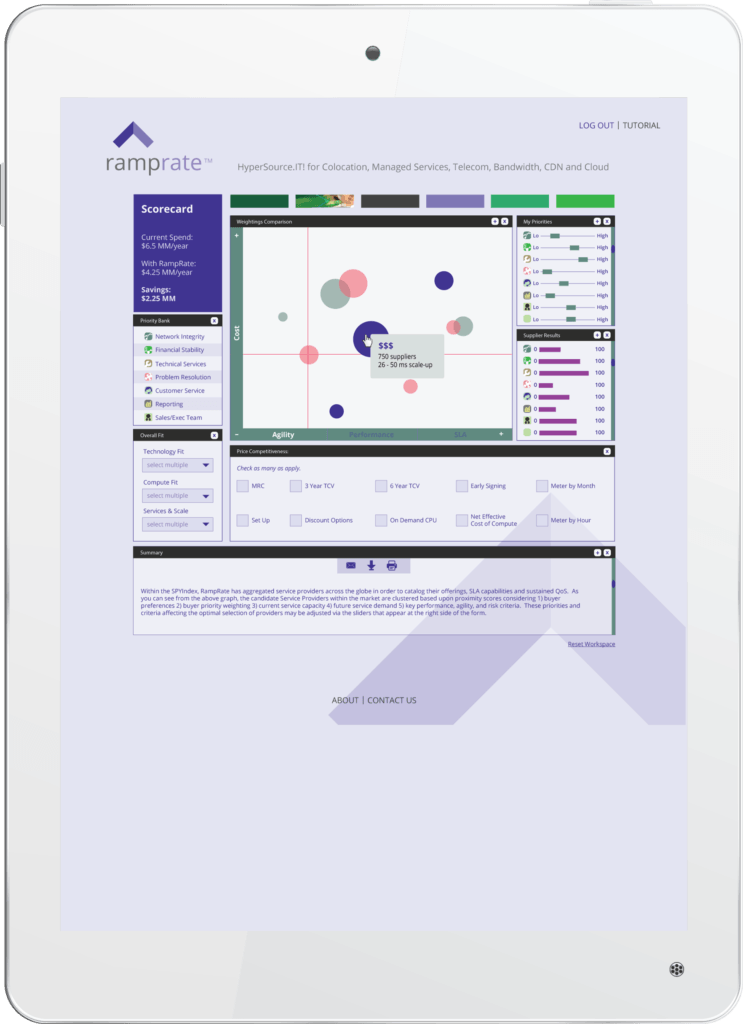 Where is cloud / managed / colo / CDN right for us?
Cloud computing is definitely attractive – infinite scalability at the touch of a button – with no money lost due to over-provisioning or delays in time-to-market.
But, the cloud model requires a wholly new approach to obtaining and allocating resources that may not be compatible with today's applications. CDN's are perfect for distributing content quickly and uniformly, but which CDN (if any) is exactly right for your applications? Perhaps building a CDN is the right answer.
RampRate will help you evaluate and compare ALL the factors in your IT strategy. Including the viability of emerging technologies and new features offered by each industry.
Should we build, buy, or rent?
RampRate can help you prepare the factual analysis you need to make decisions.
Our expertise and visibility to thousands of IT transactions give us the visibility and data to properly evaluate a build-versus-buy decision.
How should I integrate IT services after M&A?
You might expect it to take months to evaluate disparate services during a merger or acquisition.
RampRate is expert in baselining and benchmarking quickly and accurately. Our experience and automation tools will give you a clear view of data center, managed services and telco provisioning across dozens or even thousands of locations.
With a clear picture, we'll help you sort out what works, what's needed, and where you can immediately concentrate to get the benefits of consolidation.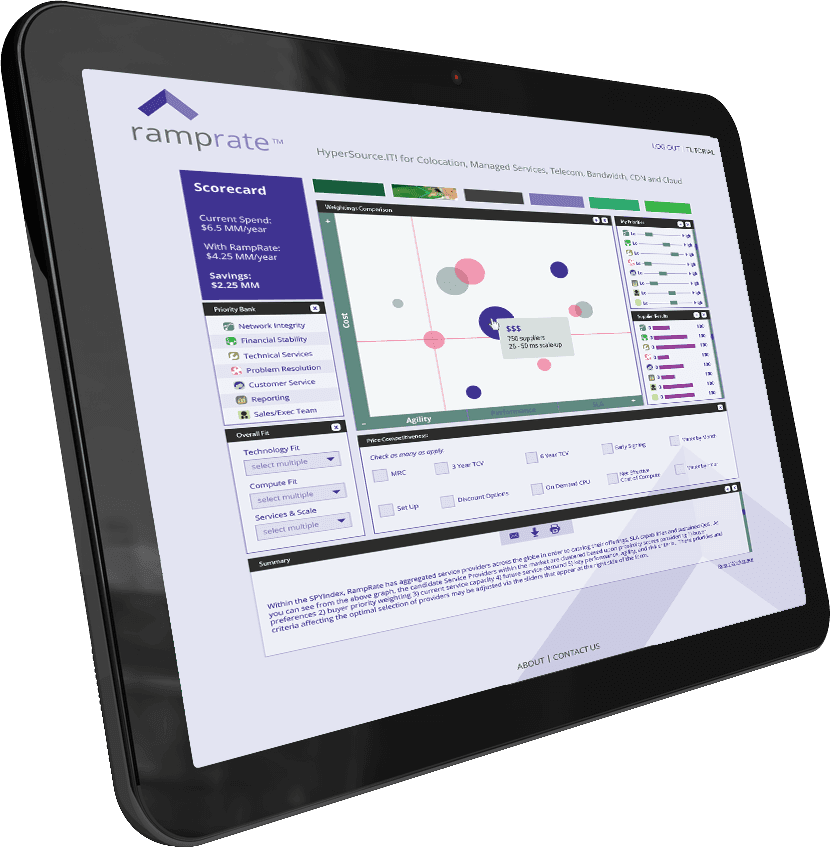 How do I ensure on-time and on-budget performance?
While costs are always important, RampRate compares performance and compatibility metrics far beyond simple price.
Using RampRate's tools and expertise gives you visibility in 10 important areas.
You weight the importance of factors including SLA's, service metrics, corporate citizenship, and contract length and we find the absolute best relationships for your business.
Find Out
TESTIMONIALS
"RampRate has been my most reliable global resource and is ready to perform for us at a moment's notice. Their inside knowledge and ability to handle high-level complex negotiations helped us move fast! They made scaling easier."
Paul Sams, COO, Blizzard Entertainment
---
"For over a dozen years, RampRate helped my companies understand the differences between suppliers and worked with us to create the methodology, define the metrics and utilize the proper QoS tools needed to choose the supplier best suited to our needs or restructuring through tailoring solutions. RampRate knows this business better than anyone. We literally saved months of time and optimized our infrastructure spend time and time again. They saved us millions, created agility and new budget out of thin air."
Phil Wiser, EVP & CTO at ViacomCBS
---
"I knew I was leaving a bit on the table in our outsourced contracts. But the corporate mandate is growth and innovation, and when further contract improvement seemed to be marginal, my team's first priorities had to move elsewhere. We can count on RampRate to be precise, timely and create millions in value."
Dean Nelson, Vice President of Global Foundation Services, eBay
---
"I have had the pleasure of working with the crew at RampRate several times. Each time they have saved significant time in negotiating and closing contracts for data center space, telecom and managed services, which provided at least 20% savings over what we could have done alone and certainly cut processes in half. Tony and team are extremely knowledgeable in this space and always bring innovation and out-of-the-box thinking to the table."
Michael Montalto, Accenture
CONTACT US
Interested?
We would be happy to share with you our experiences and help you understand
the potential opportunities involved in achieving your goals.

Get in Touch